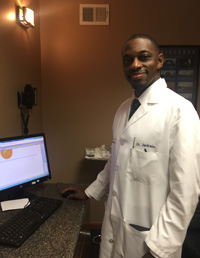 Dr. Kurt Jackson is our vitreous-retinal surgeon. While serving in the U.S. Army as a medic for four years and an eye technician for two years, Dr. Jackson received a US Army Achievement Medal, Commendation Medal, Good Conduct Medal, and a National Defense MedalDr. Jackson was accepted into the prestigious Albert Einstein College of Medicine where he graduated in 2003 with his medical doctorate degree. He continued at Albert Einstein College of Medicine to pursue his residency training in Ophthalmology, which he completed in 2007. Dr. Jackson completed his two year Vitreous-Retinal Fellowship at South Texas Retina Consultants in Corpus Christi, TX. Dr. Jackson also practices at the Retina Center of New Jersey.
Doctor Jackson has undergone specialized training to diagnose diseases of the vitreous and retina. This includes diabetic retinopathy, macular degeneration, retinal tears, floaters, detachment and many other disorders.
The Jersey City and Bayonne offices are equipped with state of the art laser and fluorescein angiography. Many conditions may be treated with in-office laser and intravitreal injections.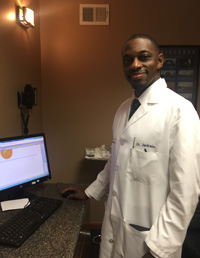 Our Locations